 Patrick Campbell is the CEO of ProfitWell (formerly Price Intelligently), the software for helping subscription companies with their monetization and retention strategies. ProfitWell also provides free turnkey subscription financial metrics for over twenty thousand companies. Prior to ProfitWell, Patrick lead Strategic Initiatives for Boston based Gemvara and was an Economist at Google and the US Intelligence community.
In this session he talks about Pricing Strategies for your SaaS product
Your pricing is the exchange rate on the value you're creating in the world. Everything that you are doing from sales and marketing all the way to your finance team, operations and product teams, is used to drive someone to a point of conversion, or to justify the product or the price that they're offering.
There's a bunch of different levers. There are the actual people you sell to, you might be selling to someone who doesn't have any money for what you're offering or maybe they don't value the thing that you're offering. This is why a lot of companies will go up market or down market because they're trying to find that market that really fits towards their product, you can obviously adjust the product not only in terms of feature that you can ship, but there's also things where you can pull features out and make them add-ons or differentiate them in a more proper manner. And then ultimately, there is the price which is not only something that will impact conversion, but also impacts the perception of your particular product. If you're a more premium product, you should be priced at a premium rate. There's nothing worse and this happens a lot in the world of SaaS products where your price is basically so cheap, people are starting to question the quality of it.
To really know if you are taking advantage of monetization, you want to look at your average revenue per user (ARPU) or other ways of measurement such as ACV or ARPA.
Now, what's interesting is that younger companies tend to update their pricing more quickly because they're not as old school in terms of not knowing that this is a growth lever. What we've consistently found is that those folks who make more pricing changes and this does not mean just raising their price. This means adding different add-ons, adjusting your discount, changing up their customer profile, these types of things, they tend to have those higher ARPU.
Businesses have lost their power, over the past 20 years, we have basically gotten the ability to ship product quicker. If you wanted to start a brand-new company, you could spin up a server or spin up a website and everything would be great.
The other thing that was amazing is we were getting all these brand-new marketing channels really quickly. Google AdWords for a penny a click, and there was remarketing, Google Display Network, Yahoo Display Network and all these different pieces. If you were building a company from 2000 to 2015, things were amazing. What happened is from 2015 there hasn't been any new marketing channels and we are all reaching a point where companies are shipping fairly as fast as one another and relatively close together.
There are so many competitors out there, even if they're not direct competitors, so your customer acquisition costs (CAC) are up about 70%. Over the past 6-7 years, the data shows that the perceived value of your product, according to customers is down by about 60 to 80%. Over the past 5-6 years, customers are more unhappy than ever and that is because software isn't as magical as it once was.
Now you need to be good at acquisition just to survive and a lot of the growth is coming from those companies who have more of a balanced growth approach, which means they're still spending half their budget on sales and marketing but in addition to that, they're spending more than the typical 30 hours a year on pricing, and things like retention.
The two foundational things we need to do to address these challenges
1. Get your value metric right
Your value metric is what you charge for. For someone like intercom, it's based off the number of people that flow through the messaging product, one of their competitors drift charge based on seats. These are two very competitive companies doing very different value metrics. The reason for this is because drift predominantly targets sales folks, while intercom predominantly targets sales, products, support and a bunch of other different types of personas.
With a value metric, you get price points for every type of buyer because they're entering based on their actual usage. If there's a company that only needs two seats, you can sell to them. If it's a company that needs 1000 seats, you can also sell to them, and you make sure you're not charging them the same amount of money.
The light green are those folks who are pure value metric companies. These are folks who don't have feature differentiation. The dark green are those folks who have feature differentiation as their primary pricing model.
The reason this growth actually exists is because churn is really good, someone who is not using as much of the product ends up paying less, and might presumably downgrade, but it's one of those things where they won't necessarily churn.
Here's some data, basically just showing that churn is much, much lower for those folks who use value metrics versus those who don't.
The other side of the equation is expansion revenue is really high, your users are going to use your product at different levels, you want to make sure that those folks who are using more of your product are getting more value.
You need to think of the value metric your product provides, in B2B it is typically the cost you save them, revenue you bring them and the efficiency you bring them. If you can measure it great, but if you can't, take one step back and test this amongst your users by doing some research.
For a SaaS company like HubSpot it's the amount of revenue they bring you through marketing activities but oftentimes, what ends up happening is you can't measure that revenue perfectly. What you need to do is you need to take a step back and find a proxy, for HubSpot, it's things like contacts, number of visits, not even users, it's basically those contacts.
2. Determine your market
If you do not know who these people are, or at least the segments that you should be targeting, it's nearly impossible to set up proper pricing.
When they were building ProfitWell, they started off with the pricing product, and they realized after doing this research that this is what their unit economics looks like, for two of the personas that they were going after. They discovered that with startup Steve, they won't make money and with miderprise Meredith, they will be underwater.
For a bootstrap company that doesn't have a lot of money to throw stuff up against the wall. This is really, really important to realize, because they didn't want to waste 18 months, trying to figure out that these customers just aren't great. They knew this really early on in the dev cycle, and were able to act accordingly. This is what led to basically using the freemium model for their metrics product.


Other topics that you need to consider
1. Price Localization:
Price localization is basically making sure that you are pricing based on the currency of the customer you're going after, as well as the demand of the customer you're going after. This is so powerful is because even if you just cosmetically update your prices, you're going to see a lift in your overall average revenue per user, because you're going to get more people to purchase and it's just something innate, we trust the currency we normally pay in, sometimes bank will have limitations for other countries, and it's something that cosmetically works really well.
On an advanced level we're actually going to update your pricing based on the density of the region.
This chart is willingness to pay relative to the United States, it's one of those things where, you know, the UK relative to the US. There's a lot of different products in here, your product probably could have different variants than what is represented. In the UK, you know it is about 15 to 20% higher, for Western Europe, it is about 20% higher. The Nordics are always willing to pay the most and that is probably due to the standard cost of living there. Southeast Asia and Brazil typically willing to pay less than what is obtainable in US.
2. Establish a pricing committee
You need a pricing process. Even if it's just you and a co-founder, you need to have a date on the calendar and a recurring meeting that's maybe once a month, once a quarter, once every six months, just to revisit the pricing.
The reason for this is because what ends up happening is that there's no one team that necessarily owns this in its entirety. The pricing touches multiple teams, marketing, product, sales, finance, and bunch of other teams, depending on the size of your company as well. You need to make sure you have the right people in the room and ensure that they meet somewhat regularly.
You should be changing something about your pricing every quarter. This does not necessarily mean increase your price every quarter. You should make adjustment to your monetization process just as you to your sales and marketing process.
If your product, brand and other elements improve then your price should also improve.
Establish a customer research cycle
We will use a cup of coffee to elaborate on the customer research cycle. If I'm trying to determine the monetization path for a cup of coffee, there's typically two axes of you know willingness to pay or value.
The first axis Is the features, what are the relative value of these different features? Do the customers you targeting care about taste? Do they care about country of origin? Do they care about temperature? What does that actually look like?
The other axis is what does the willingness to pay look like. Using some methodologies that are open source or our software which is optional, you can talk to a segment of Salt Lake City or a segment of Boston or even a segment of Rosario, you can find out that overall, compared to all the other features the most important feature is taste relative to the others. people are pretty indifferent about temperature, and the least favored relative to the other features is country of origin.
It doesn't mean the country of origin isn't a very preferred feature for someone. It just means that in the aggregate compared to other features, it is the least valuable.
Using another methodology you might find out that those people whose number one feature is taste are willing to pay about 25% more, those people whose number one feature is temperature are willing to pay about 20% less. And those people who country of origin the hipsters in the audience here, who really care about where their coffee comes from are willing to pay about 35% more.
The framework is, if you find a feature, a value proposition and an aspect of a product, that in aggregate for that segment is highly valued and the people who care about it as their number one are willing to pay more for it, then that's a differentiable feature.
Low value relative to everything else, but the people who really care about it are willing to pay more, that's an add on.
High value relative to everything else, and the people who really care about it aren't willing to pay more, then that is typically a core feature.
Low value relative to everything else and the people who really care about it aren't willing to pay more is trash.
You are going to have to build some trash such as mobile apps in certain spaces like fleet management, these are things you won't get any credit for building.
Product Leaders and User research data
They went to about 1300 product leaders and asked them where they would put what they are building inline with the four boxes.
They asked about 1.2 million users of these products and a composite study using the methodologies they have developed was carried out, the customers response showed the difference between what you think you are building and what you are actually building.
Raise prices

About 80% – 85% of the people they talk have products that are typically underpriced. The problem becomes figuring out how much you're underpriced and you might think that's okay, you will just get more volume but not all software works like that. There is a point where your price is so cheap that people start questioning the quality of your product.
Before you raise your prices.

A. Makes sure you do your research.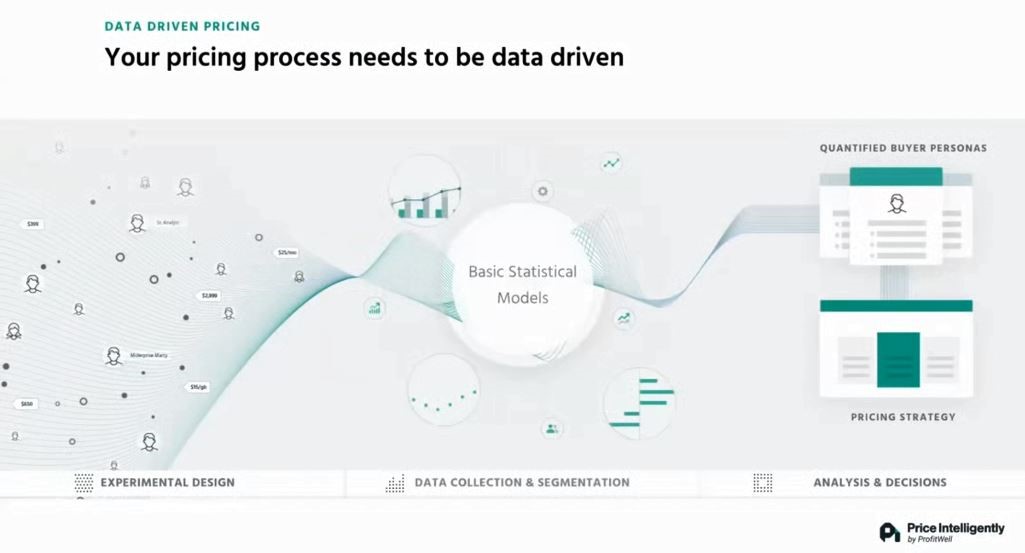 You should also run an Impact Analysis
Anyone who is basically getting a larger than a 50% increase in their price, you probably want to personalize or even give them a phone call, depending on the actual magnitude of the price. If you are going from $1 to $2 you don't need to worry about it too much however if you're going from, $500 to $1,000, it's probably worth a phone call to explain what's going on and soften the impact a little bit.
C. Messaging
Here is a template you can apply but tweak it to suit your needs.
Throw in this P.S as well
The P.S serves two purposes
If someone is being impacted in their business, especially this year with all the crazy stuff going on, you probably want to be nice and get a lot of brand value and basically say not a problem at all, we'll beat the middle discount, or we'll just let you on your legacy plan for a longer period of time.
It is also useful for those who don't want to spend any more money for the thing that they are getting, they are more worried about P&L however after they have been reminded of how much value they are getting in all these different things, now with this PS, they look at it and go, Oh, no, they like the product, they won't fuss about it and they just kind of accept the price.
Resources
ProfitWell – Free financial metrics for subscription businesses